Tiled and slate roofing sorted in Nottingham
We fit, replace and repair tiled and slate roofs making them durable, leak proof and problem free no matter where you are in Nottingham. Take a look at the benefits of these great roofing materials:
Very long life span
Great fire protection
Low maintenance
Good selection of sizes and shapes
Storm and wind resistant
Natural and attractive appearance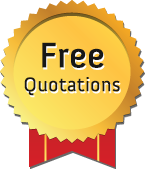 With over a decade of industry knowledge and tiled roofing experience we are the right choice for you and have all your slate roofing needs covered.
Our experienced team of roofers are all fully trained and carry out every job with great care and attention to detail, ensuring your Nottingham home looks great and making you the envy of your neighbours. We'll be happy to provide you with a free quote on all roof tiling and slate roofing work. Just pick up the phone and dial 0115 815 9347.
A price that is right for you
Not only will you receive great service, but our prices for our tiled and slate roofs are fantastic, so we're sure you will use us again! You'll also get:
A free estimate with any roofing job
More than 13 years in the trade
A guarantee with every roofing project
Fully qualified and experienced roofers
Cost effective solutions to all problems
Talk to the specialists without delay for a personal and professional service.