Felt roofing in Nottingham
For over 13 years, we have been providing the people of Nottingham with felt roofing services. From a simple patch repair to a brand new felt roof, trust us to deliver. The great benefits of a felt roof are:
Cost effective and easy to install
Strong roofing material
Great for balconies and terraces
Suitable for any type of roof
Materials are widely available
Unaffected by weather conditions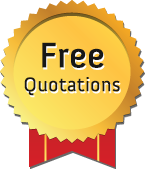 We have built ourselves into a well respected company in Nottingham that you can rely on for all your felt roofing needs. We'll be happy to visit you at home, inspect your roof and offer you a free estimate on all work, taking in your exact requirements. Call us on 0115 815 9347 to see how we can help.
Felt roofing by the specialists
No matter what the size or shape of your roof, you can be sure we will complete the job with skill and speed. We promise you:
All roofers are fully trained and experienced
We are a well established local company
All work comes with a free estimate
We guarantee all work for many years
We charge fair prices for our roofing
We are fully qualified and have years of experience carrying out felt roof repairs or constructing new felt roofs. Let us take care of yours.